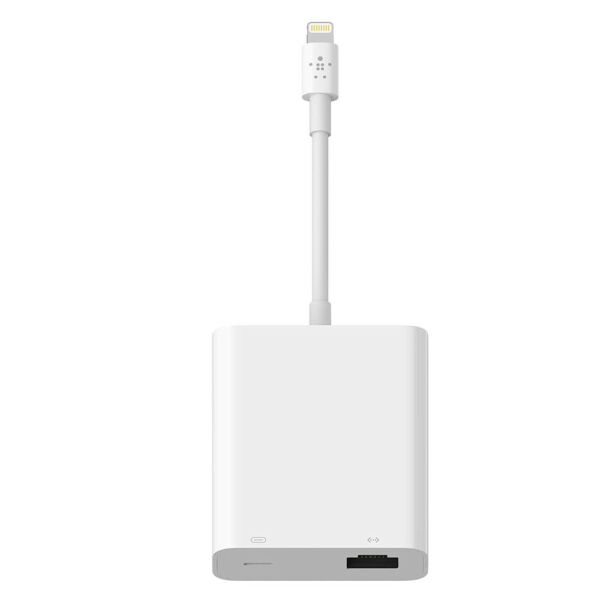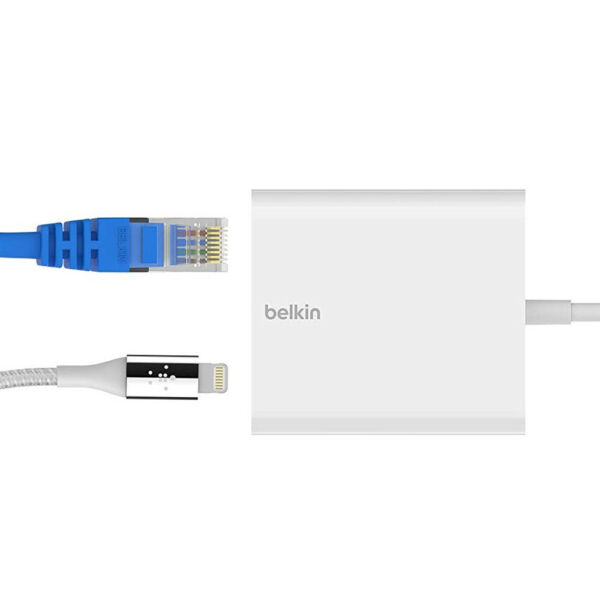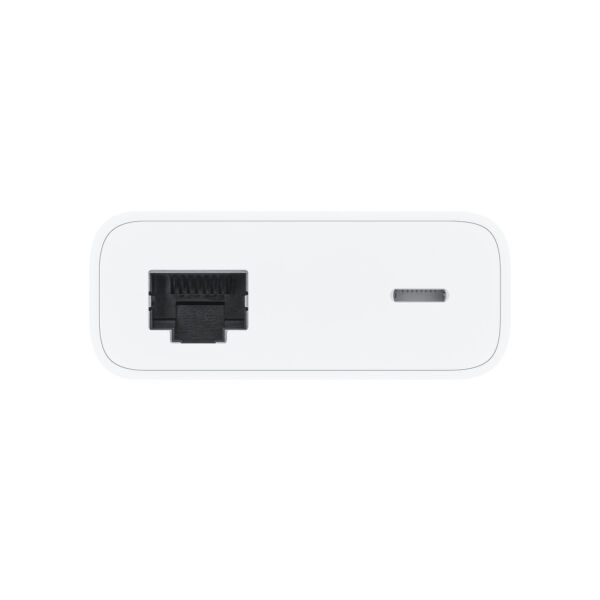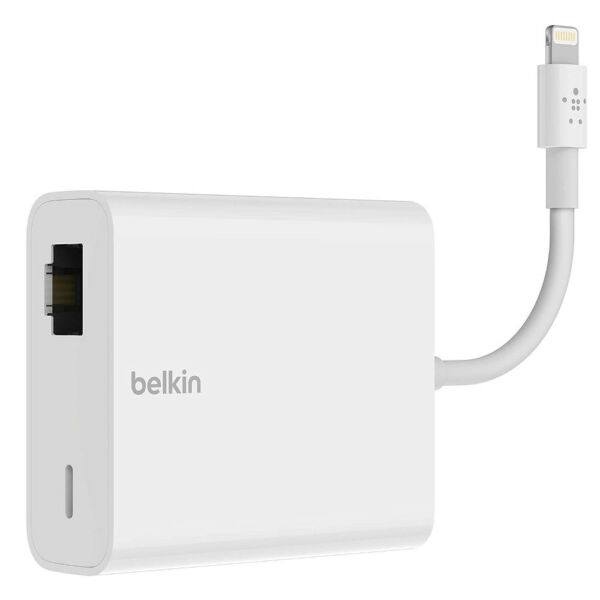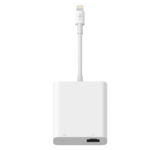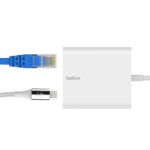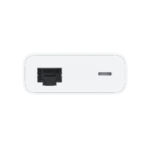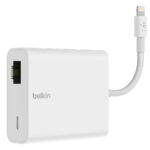 iPad / iPhone hardwired adapter, Apple certified
$99.33
Set up a wired Internet connection on your iPad® or iPhone® over a standard LAN Ethernet cable. This Belkin / Apple adapter provides a technically measurable elimination of electromagnetic radiation from wifi and cellular connections.
Description
Reviews (2)
Technical Details
Description
Super stable 180 Mbps connection, no more wifi connection drops.
Compatible with any iPad and iPhone with standard 'Lightning' charging connector.
Apple MFi-certified ('Made for iPad/iPhone').
Wifi is two-way traffic. For each bit of data sent from the wifi router, a confirmation is sent back by the iPad or iPhone. Wifi radiation coming from the iPad and iPhone is strong and the device is held very close to the body. Especially with data intensive applications like video, the wifi radiation is very high. This adapter completely eliminates wifi radiation by hardwiring the Internet connection. You can put your iPhone or iPad in Airplane mode with wifi turned off and still surf the Internet and use apps that require an Internet connection.
Did you know that: A shielding case for the iPad in many cases does not actually reduce wifi radiation when measured, because most of the wifi radiation is emitted from the iPad towards the screen side.
Latest iPad with USB-C port, or recent Android phone? Then you'll need the USB-C Ethernet adapter. For older phones with a micro-USB port, you can try the Plugable micro USB adapter (only for selected phones, not on Samsung, LG and Windows Phone). Buy Plugable micro USB adapter on Amazon. (List of suitable phones)
How to use
Connect the iPad / iPhone hardwired adapter to charging port below the Home button, called the 'Lightning' port. Then connect a LAN cable from the adapter to a LAN port of your router. Now you have a completely radiation free Internet connection to your iPad or iPhone!
Technical specifications
LAN/ETHERNET: Stable high speed Ethernet connection at 180 Megabits per second for surfing the Internet. Connect your iPhone/iPad to the Internet through hardwired LAN.
CHARGING FUNCTION: Charge your iPhone/iPad via the charging connector (max. 12W) or via Power over Ethernet (PoE, max. 10W).
DIMENSIONS: 53 x 22 x 60 mm.

PLUG and PLAY: No need to install any software drivers.

Original Apple / Belkin certified product. Firmware updates available through Belkin Connect app.
Charging
The adapter always provides an internet connection, whether or not it is connected to a charger. Through the adapter's charging port you can charge your iPad/iPhone by connecting your Apple charger. As an alternative charging method, the Hardwired adapter also supports Power over Ethernet (PoE) if you connect a PoE injector to the other end of the Ethernet cable.
Grounding
When a non-grounded charger or router is connected, this will produce a high electric field that is conducted to the iPhone or iPad. You can solve this by grounding, which can be done as follows, depending on your charging method:
Apple charger (10W or 12W USB): Slide off the charger plug and replace it by a grounded Apple charger cable (UK version).
PoE injector: Use a grounded PoE injector (see above). This must be connected to the adapter via a shielded FTP cable. Only the combination will bring the electric field to zero.