Eco routers with measurably reduced wifi radiation
Would you like to measurably reduce electromagnetic radiation in your home?
The biggest 24-hour emitters are usually located in your own home. Think of the cordless phone, the baby monitor and the wifi modem/router. Did you know that routers for wireless Internet emit a lot of radiation unnecessarily, 24 hours a day, even when they are not being used?
The solution is a low-radiation Eco wireless router. These routers are equipped with the unique JRS® Eco firmware, an operating system that measurably reduces radiation and works on a modern Asus® router.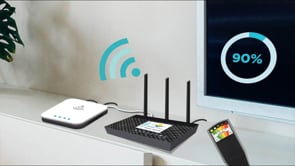 "I have tested the new ECO 100 wireless router and I'm very happy with what you have managed to make. The Full ECO mode works exactly as I was hoping for. The router goes to sleep when not in use and starts up immediately when wifi is activated on any of my wifi devices. 🙂 100% radiation free in Full ECO mode it is a blessing for EHS persons. Congratulations on a job well done!!" – Odd Magne Hjortland, EMF Consult AS, Norway         More reviews