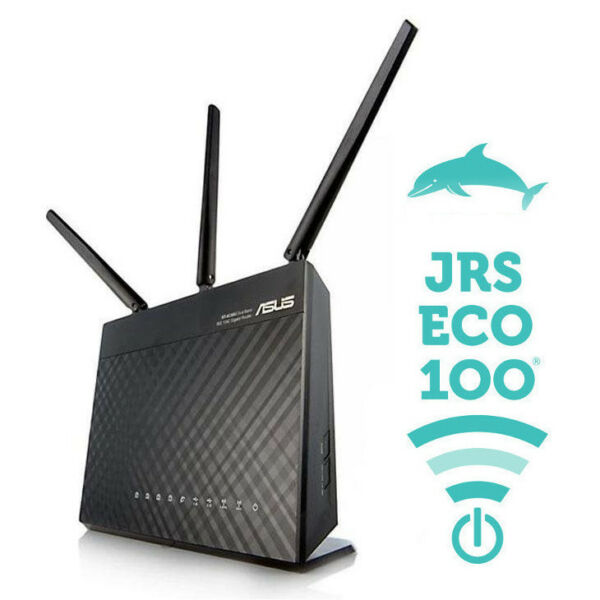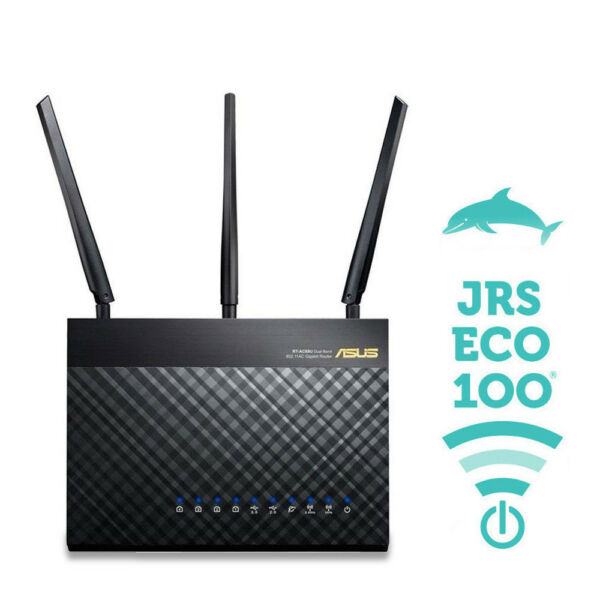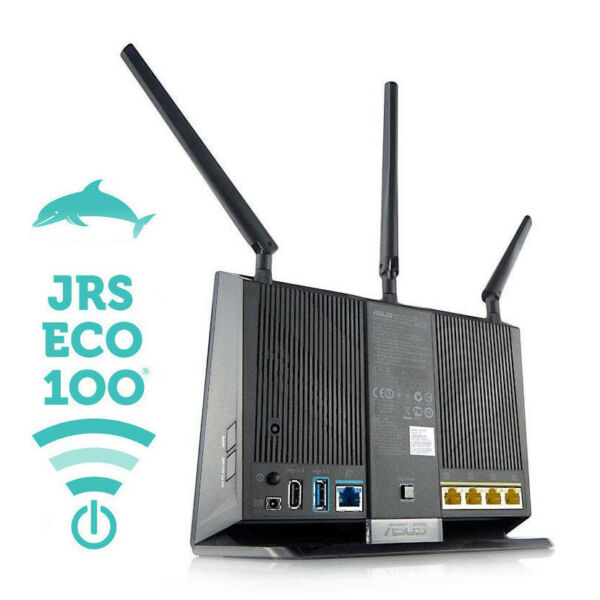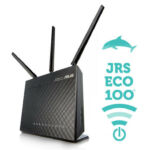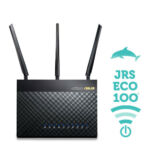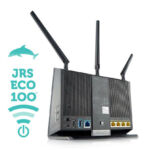 JRS Eco 100 D2 on Asus – wireless router with reduced radiation
$254.59
Always wireless internet available, zero emission when it's not used. Upright model. AC1900 3×3 dual-band router with 2 USB ports and detachable antennas. With JRS Eco 100 firmware.
Description
Details
Reviews (131)
Product support
Description
The JRS® Eco 100 low EMF wireless router

Is the JRS Eco router compatible with my Internet modem / provider?
Wireless on demand. The unique JRS Eco 100 firmware, running on a fast Asus® router, enables a Full Eco standby mode with 0% electromagnetic emission when no wireless devices are connected.
The router switches the wireless signal back on immediately when you enable wifi on your device or open the list of available networks. Even when wireless is active, it has an up to 90% reduced pulse frequency.
Plug and Play: comes with JRS firmware installed.
Wireless scheduler.
Fine adjustment of range with ten steps.
Wireless on/off button.
Dual band: additional channels at 5 GHz for higher speed and capacity.
Detachable antennas allow for the insertion of additional attenuators (optional).

USB 2.0 & 3.0 ports for sharing files or USB print server.
Gigabit Ethernet LAN ports.
No loss of speed, stability or range compared to ordinary wireless routers. AC 1900 with 400 Mbps+ real measured speed (Speedtest.net).
Firmware updates included.
2 years warranty.
The JRS Eco firmware is an extension of the Asus firmware and you retain full functionality.
Review on EMFhome.com: JRS New 2nd Gen Low Radiation Router: The Future of WiFi?
Compatible with Comcast, AT&T, Time Warner, Verizon, and all other providers (provider independent). Connects with your existing modem to reduce EMF. Power adapter 100-240V 50/60Hz included. Plug adapter included free of charge for US, Canada, Australia/NZ and UK orders.
See also What are the differences between the JRS Eco router models?
Easy installation. The Eco-WiFi router is connected to your internet modem using a standard network cable (included). If your internet modem has built-in Wifi, switch off its Wifi function. You may ask your internet provider's customer service how. All functions of your existing internet modem, like for example internet telephony, can still be used.
The exposure to EM radiation from the laptop or other wirelessly connected equipment remains unchanged. Set your smartphone to switch its wifi off in stand-by mode. In some cases you can reduce the transmit power of your computer's WiFi adapter using the Device Manager in Windows. A wired internet connection is radiation-free and minimizes health risk.