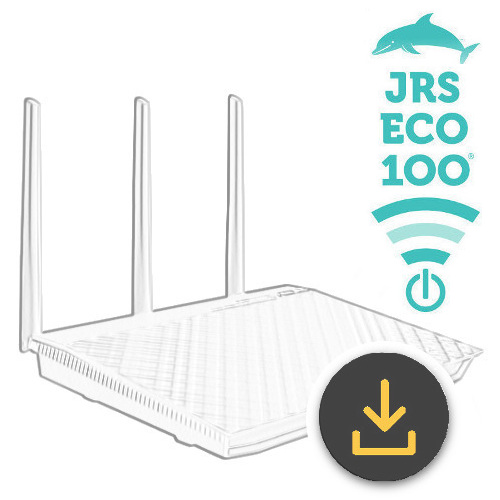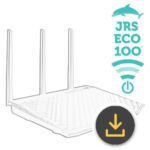 JRS Eco 100 Firmware Download
$113.51
JRS Eco 100 firmware download for installation on your Asus router.
Description
Product support
Reviews (8)
Description
JRS® Eco 100 firmware download

Completely identical functionality to our bundled product (router + firmware) and the same simple installation procedure.
Purchase the JRS Eco 100 firmware download
Purchase the right model ASUS router locally
Install JRS Eco 100 firmware on router.
Save on shipping costs and time. Do you already own an Asus® RT-AC68U or RT-AC66U B1 model router or are you buying one yourself? Then you can order the JRS Eco 100 firmware download here and easily install it on your router in 10 minutes.
Only suitable for installation on the Asus RT-AC68U or RT-AC66U B1 model. Select your model above.
Currently does not support the new RT-AC68U V4.
The unique JRS Eco 100 firmware, running on one of the fastest Asus routers, enables a Full Eco standby mode with 0% electromagnetic emission when no wifi devices are connected.
The router switches its wireless signal back on immediately when you enable the wifi on your wireless device or open the list of available networks.
Even when wireless is active, it has an up to 90% reduced pulse frequency, as in the previous generation JRS Eco routers.

Wireless scheduler.
Fine adjustment of range with ten steps.
Wireless on/off button. Separate button on RT-AC68U model, WPS button can act as wifi on/off button on RT-AC66U B1.

No loss of speed, stability or range compared to ordinary wifi routers. AC 1900 with 400 Mbps+ real measured speed (Speedtest.net).
The JRS Eco firmware is an extension of the Asus firmware and you retain full functionality.