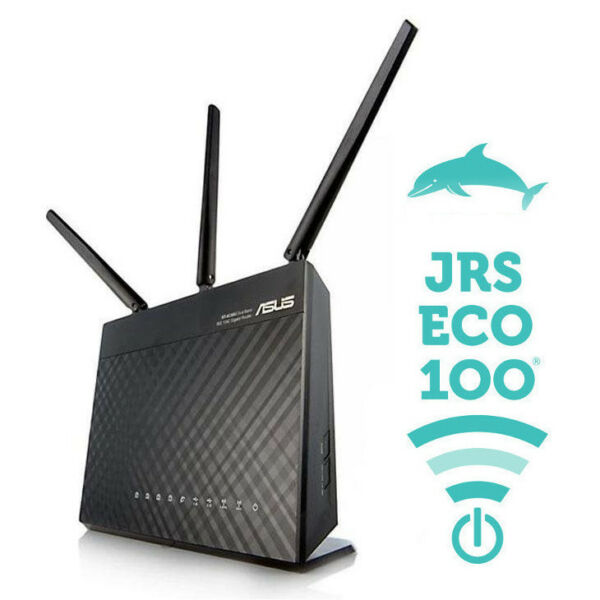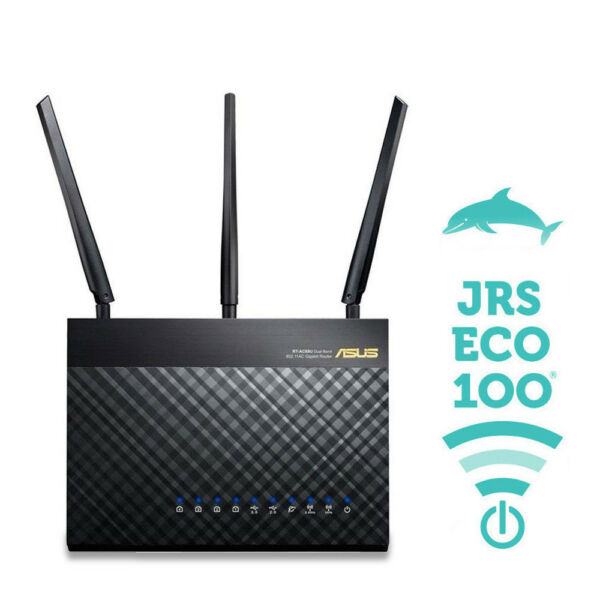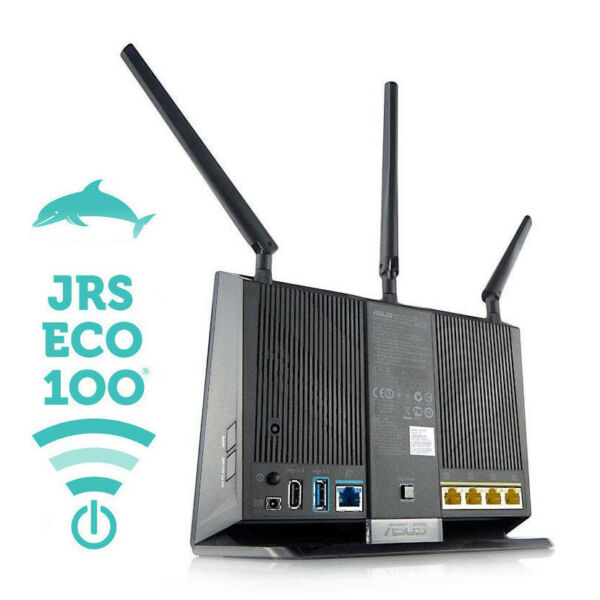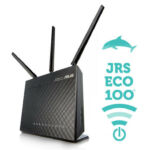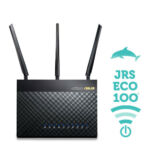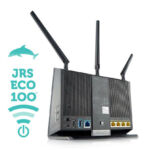 JRS Eco 100 D2 op Asus – draadloze router met gereduceerde straling
$252.20
Altijd draadloos internet beschikbaar, nul straling wanneer je het niet gebruikt. Rechtopstaand model. AC1900 3×3 dual-band router met 2 USB-poorten en afneembare antennes. Met de JRS Eco 100-firmware.
Beschrijving
Details
Beoordelingen (389)
Productondersteuning
Beschrijving
De stralingsarme JRS® Eco 100 draadloze router

Altijd draadloos internet beschikbaar, geen straling wanneer je het niet gebruikt.
De unieke JRS Eco 100-firmware, werkend op een snelle Asus router, maakt een Full Eco standby-modus met 0% elektromagnetische emissie mogelijk, wanneer er geen draadloze apparaten zijn verbonden.
De router schakelt onmiddelijk weer in wanneer je op je draadloze apparaat de wifi inschakelt of de lijst met beschikbare wifi-netwerken opent.
Zelfs als draadloos internet actief is, heeft de router een tot 90% verlaagde pulsfrequentie, net als in de vorige generatie Eco routers.
Plug and Play: wordt geleverd met geïnstalleerde JRS-firmware.
Geen verlies van snelheid, stabiliteit of bereik in vergelijking met gewone draadloze routers. AC 1900 met 400 Mbps+ werkelijke gemeten snelheid (Speedtest.net).
Wifi aan-/uit-knop.
Fijnregeling van het bereik met tien stappen.
Dual band: extra kanalen op 5 GHz voor hogere snelheid en capaciteit.
USB 2.0 & 3.0-poorten voor het delen van bestanden of USB-printserver.
Gigabit Ethernet LAN-poorten.
Tijdklok voor wifi.
Afneembare antennes maken het mogelijk om extra dempers tussen te plaatsen (optioneel).
Firmware-updates inbegrepen.
2 jaar garantie.
De JRS Eco firmware is een uitbreiding op de Asus firmware en je behoudt de volledige functionaliteit.
Review op EMFhome.com: Nieuwe JRS 2e generatie stralingsarme router: de toekomst van wifi?
Werkt samen met Ziggo, KPN, en alle andere internet providers. Lees ook: Hoe kan ik de wifi van mijn Ziggo modem uitzetten?
Zie ook: Wat zijn de verschillen tussen de JRS Eco modellen?
Eenvoudige installatie. De wifi-router wordt met een gewone netwerkkabel (bijgeleverd) op uw internetmodem aangesloten (KPN, Ziggo etc.). Als uw modem een ingebouwde wifi heeft schakelt u deze uit. Vraag het de klantenservice van uw provider. Alle verdere functies van uw internetmodem zoals telefonie blijven gewoon te gebruiken.
De straling van uw smartphone, laptop of ander draadloos apparaat blijft onveranderd! Wifi is twee-richtingsverkeer. Stel uw smartphone zodanig in dat de wifi automatisch uitschakelt als het scherm uitgaat. U kunt soms het zendvermogen van de wifi-adapter in uw laptop via Apparaatbeheer lager instellen. Stralingsvrij werken via bekabeld internet geeft de minste straling.